This Season we have a large range of merchandise avaialble in both Senior and Junior sizes.
To order you can either see Glenn Murphy at the club or email him on treasurer@carnegiecc.com with with your order. We can freight your purchase Australia wide for a flat rate of $15.00, just simply choose your items and add the $15.00 freight and direct deposit the full amount to Carnegie CC Account BSB 633-000 Account 150291078.
Pricing:
Baseball Cap $15.00
Baggy Cap $49.00
Training Shirt $40.00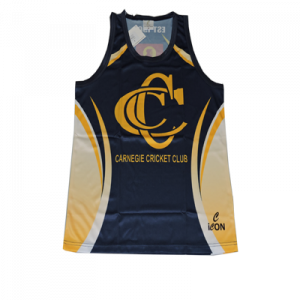 Singlet $35.00
Shorts $30.00
Track Pants $45.00
Rain Jacket $45.00
Hoodie $70.00 (image coming soon)
White Cricket Shirt $44.00 (image coming soon)
White Cricket Pants $48.00 (image coming soon)
Stubby Holder $7.00
Key Ring $6.00
For sizing just let us know your usual Australian size eg XXL,XL,L,M,S for Juniors there age eg 10,12,14 and we will do the rest. Most sizes in-stock, if we are out of stock we have orders coming every 4 weeks.