Carnegie Cricket Club is celebrating after landing a record 5 senior Premierships in the 2018/19 season.
The club won Premierships in Cricket Southern Bayside (CSB) Women's Division 1 and Men's Division 3 and 4 before adding the  Mercantile Cricket Association (MCA) C South and D Saturday Premierships last weekend. This was in addition to the White Ball Premiership in CSB Division 3 earlier this year.
The club also had losing Grand Finalists in MCA D Sunday, and were finalists in the CSB Championship and MCA A Sunday Division.
5 Premierships is a new record for Carnegie, a club which has existed since 1906.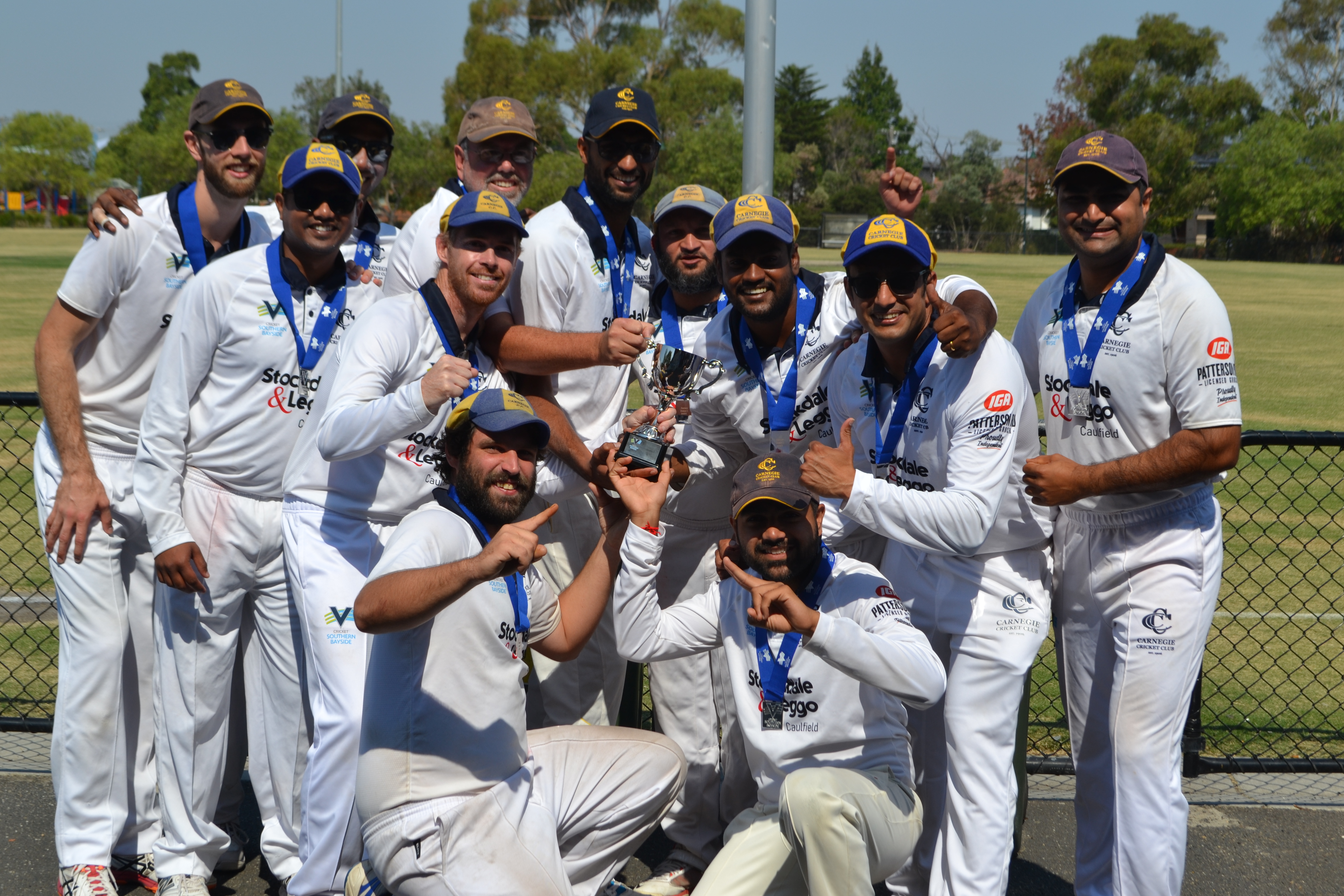 The Carnegie Second XI celebrate the 2019-19 CSB Division 3 Premiership.
Quotes attributable to Pat O'Shannessy, President.
"It's been a remarkable season for this famous club. It's the result of many hours of hard work on and off the field."
"We're growing each year. Fielding 8 senior teams is a massive achievement in itself, and to have all of them make finals and 5 of them win Premierships is unbelievable. We think it could be a record for any community cricket club."
Quotes attributable to Ajay Bhatt, Head Coach.
"The first thing that struck me when I came to the club was the commitment and drive from everyone to improve and compete at every level. They were open to try new things that can help them be better. Its hard to find that attitude in players at club level"
"I've played cricket for over 20 years, and I can't remember anything like the season we've had at Carnegie"
Quotes attributable to Penny Callaghan, Women's Captain and Junior Coordinator .
"At the start of the season we didn't even have a women's team, to end it as Premiers was something really special. There is a great spirit at this club and we're so proud of what we've achieved this season."
"As well as the amazing year for our seniors, we've got 13 junior teams and 4 of them got into finals with the Under 15 boys team finishing runners up and our All Girls team making finals for the 3rd straight season. Our Woolworths Cricket Blast programs are also going really well thanks to our volunteers."
Enquiries: Anthony – 0447 663 249