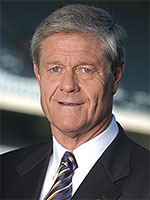 Our social calendar for 2013/14 will be announced next week. But we can tell you David Parkin has been locked in as our guest speaker for Past Players Day, in Feb 2014.
David is a revered figure in football and coaching, having played 211 games for Hawthorn between 1961 – 74 and then launching a career as coach of three VFL/AFL sides: Hawthorn (premiers 1978), Carlton (premiers 1981-82 and 1995) and Fitzroy.
He has subsequently provided expert comments for ABC 774 and Fox Footy and remains a mentor to many AFL coaches. He has been a long-time lecturer in Sports & Exercise Science, most notably at Deakin University.