Welcome back to another season of cricket.  It might be the middle of another rainy, cold Melbourne winter but we are in full swing here at Carnegie Cricket Club preparing for the upcoming cricket season.
Just like previous seasons, we will once again be holding the first three sessions in an indoor centre to kick the training off for the season.  This year we have secured one of Melbourne's Premier Indoor Centres, YoungGun Cricket.  It's a beautiful centre and it's nice and close.  It even has a viewing area where parents can watch and mingle while sessions are being conducted.
These sessions will once again be on late Saturday afternoons/evenings.  We apologise if this time does not work for you but with a lot of our junior players committed to winter sport and training during the week, we find the best time to hold these early season sessions are late on a Saturday.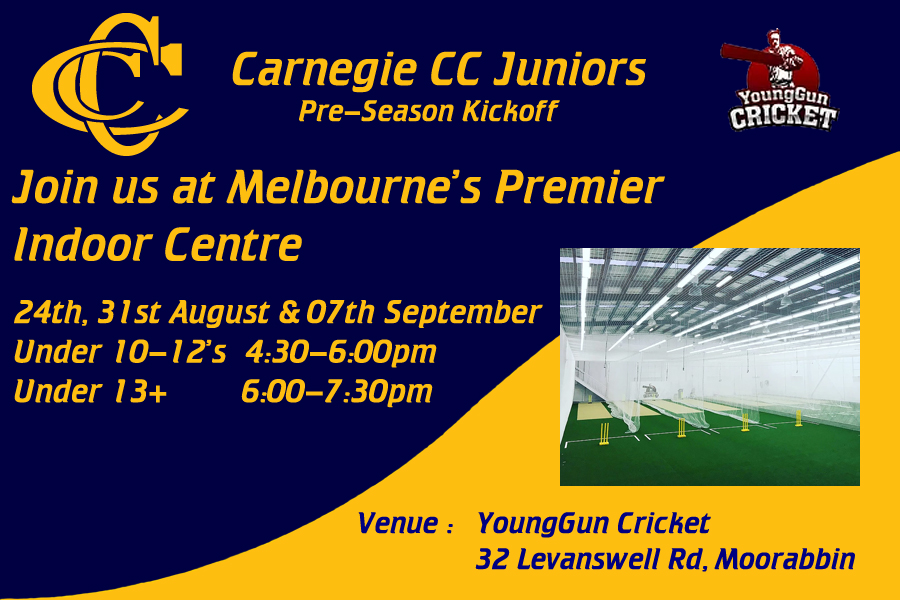 Venue: YoungGun Cricket
32 Levanswell Rd, Moorabbin
Session 1       Saturday  24th August
Session 2       Saturday  31st August
Session 3       Saturday  07th September
U12 Rookies & Under 12s        4:30pm – 6:00pm
U13, U14, U15, U17 & Girls      6:00pm – 7:30pm
Note:  These sessions are limited to our Junior Players who are looking to play with Carnegie CC in the upcoming 2019/20 season.  New players to Carnegie are welcome to attend.  Master Baster and Junior Blaster training details will be released in the next few weeks.
We look forward to seeing everybody there.